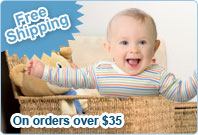 Popular Categories
Wearing Maternity and Nursing Bras
Comfortable Fit and Proper Cleaning are Essential
Will a maternity or nursing bra help my back pain?
Breasts are heavy, and having the proper support and weight distribution will help lessen the strain on your back. A well-fitting bra also helps promote good posture, which in turn will help relieve upper back discomfort.
How should my maternity bra fit?
The quick answer: comfortably!
The cup needs to be large enough to completely cover your breasts. If your breasts are 'spilling out' over the tops or out the size, go to a bigger cup size.
Your bra band should fit snugly, but not so tightly that it cuts into your skin.
If your bra is riding up in the back, try a larger cup size.
Your shoulder straps should not "bite" or "dig into" into your shoulders.
Should I wash my maternity bra before I wear it?
Yes. The bra will be softer after its first washing. Just be sure you wash according to instructions (usually hand-washed and air dried) to avoid uneven shrinking and damage to the elastic, band, or fabric.
Can I wear the same maternity bra through my pregnancy and when nursing?
Most women find that their bra size increases one cup and one band size during their pregnancy (for example, someone who is a 36C when she becomes pregnant will probably be a 38D when the baby arrives). Most maternity and nursing bras have adjustable straps and back closures that are designed to fit comfortably on the 'smallest' closure during the first term, and then can be expanded to accommodate your growth throughout your pregnancy. However, every pregnancy is different. Most expecting moms go up an entire size or two during their pregnancy. You shouldn't invest in 5 – 12 bras at the beginning of your pregnancy in hopes that they will fit for nursing. We recommend buying 2-3 at a time, and take proper measurements every time you buy a new bra.
How do I determine my maternity bra or nursing bra size?
You measure for size differently for maternity bras than you do non-pregnancy bras. Check out our sizing chart for more information.
Should I sleep in my maternity bra? How about when nursing?
Many care professionals and experienced moms recommend sleeping in your maternity or nursing bra. Whether you are pregnant or nursing, the bra will give you added support during the night, reducing breast tenderness. When you're nursing, sleeping in a bra gives the added benefit of being able to hold your nursing pads in place to avoid leaking milk spills. Do not sleep in underwire bras.
How many maternity bras should I buy?
We strongly recommend only buying two or three bras at a time, because you may increase in size and 'outgrow' maternity bras you use during your first and second trimester. You'll want to have enough on hand that you have something to wear while your other bra(s) are being washed and dried. You may want to have 5-6 bras by the time you start nursing, so that you can have enough to wear if you end up leaking milk during your day.
Have a maternity or nursing bra (or any other type of) question? Contact us, and we'll try and find the right answer for you!
Page 1 | Page 2
Additional Information and Articles:
Maternity and Nursing Bras Catalog
Maternity and Nursing Bra Sizing Chart