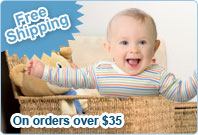 Popular Categories
Things to Buy Baby
A List of Things to Buy before Baby comes home
Changing Table:
My sister-in-law told me that a changing table was the most important thing I could buy for the guys' room, and I am so glad I listened to her! Like any other baby item, there is a huge variety to choose from. You can purchase 'just' a changing tables or purcase a changing table that also serve as a dresser, bookshelf, and closet. There are some 'all-in-one' that incorporates the changing table into the framework of a crib or bookshelf. Whichever you decide to get, I recommend buying a "sturdy" changing table, as it will save your back (and all the backs that change baby's diapers) not only in the infant stage, but through toddlerhood, too (anywhere from 18 months to 3 years, depending on how potty training and pull-ups go). Some of the spindle-legs and wicker changing tables (to name two) have a maximum weight of 20 lbs or so – which baby will quickly outgrow. It's amazing how much easier life becomes when you have a changing table to rely on, instead of tables, beds, and the floor.
Cloth Diapers – for you not for baby:
YOU NEED THESE even if you use disposable diapers. These aren't for baby to wear, but for you to use for just about anything – burping, spills, cleaning up spit up, roll up to use as head and neck supports – you name it. Once you get past the infant stage, they still come in handy. The soft feel l makes it nice to use against baby's skin, and their larger size is much better than depending on washcloths and dishtowels.
Clothes:
Baby needs to wear something! I'll say it here, but you'll do it anyway – be wary of overbuying for sizes 0-3 months. This size usually is up to 12 lbs, which happens fairly quickly. Stock up on onesies and sleepers (which they will spend most of their time in, anyway), and leave the buttons, shoes, and hard to get into clothes for when baby is 3 months old and older. You don't want to spend your baby money on clothes they'll outgrow in about two months.
Co-Sleeper or Pak 'n Play:
Co-sleeper or Pak 'n Play
There are two great options to cosleep with baby.
Products like the Family Bed Co-Sleeper safely turn a regular bed into a family bed. The Family Bed Co-sleeper offers a comfortable (and washable) pad for dad, mom, and baby to sleep on, while the bolster keeps baby from rolling off. When looking for a family bed co-sleeper, make sure that the bolster is used without straps, buckles, without cumbersome pillows.
A bedside cosleeper is a great way to keep your baby at arm's reach, but out of your bed. You can also remove the sleeping area and use the base as a play pen, if you'd like. I would definitely go for the co-sleeper if you have twins (it has a sturdier bed where the babies sleep, and you don't have to 'reinforce' the bed with cardboard).
Pak 'n Plays come with a variety of options as well. Ours had a bassinet and a changing table included. Once the guys outgrew their bassinet, we had them sleep in the pak 'n play in the living room, and the co-sleeper in our bedroom. We never did use the play pen features.
Both fold up fairly easily so that you can take them with you when you travel. The big difference between the two is that a co-sleeper has one side that drops down, allowing baby to be at the same heighth as your bed, without having a significant barrier between the two of you that you have to navigate to put baby in, or take baby out, while lying in bed. Also, we found that the co-sleeper was significantly sturdier than the pak 'n play.
Crib:
This one is iffy to have before baby comes home if you plan to cosleep or use a bassinet for the first few weeks, and a must if you intend on putting baby to sleep in the crib as soon as he or she comes home. While it's great to have 'crib' crossed off your list before baby comes home, if you're going to be co-sleeping or using a cradle or bassinet, you might want to wait until baby is home. There are more than a few parents that decorated their baby's nursery before baby came home, only to discover it didn't "match" their baby's personality. Many families co-sleep with baby during the first year, and skip the crib all together, moving right into a toddler bed.
There are almost as many options for cribs as there are for car seats. You can buy one that serves only as a crib, or one that converts into a toddler bed and then into a twin bed. Hand-me-down cribs are great family heirlooms, but be safety conscious. Are the slates to far apart? Are there any broken or damaged pieces? Is anything painted with lead paint?
A through B | C | D through G | H through Z