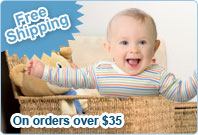 Popular Categories
Summer Pregnancy Comfort Tips
How to Stay Cool During Warm Weather
Staying comfortable while pregnant is a major challenge for just about everybody - especially if you have a summer pregnancy. Most moms-to-be feel warmer because of hormonal changes, pregnancy weight gain, and increased blood circulation. Sensitive skin doesn't help you feel more comfortable when the mercury starts creeping up, either. We've gathered together tips and hints from our customers and friends to help you keep cooler and more comfortable during the warm (and down-right hot) days of the year – even when you're pregnant and not feeling all that comfortable.
The number one thing you can do is STAY HYDRATED! Not only is water essential for a healthy pregnancy, water is the best coolant there is. Ice chips are a refreshing way to get cool too. One mom-to-be purchased a kid-sized sno cone maker and had several shaved-icees (as she called them) a day. Take a water bottle full of ice and cold water with you everywhere.
Take advantage of being pregnant and don't do a whole lot. Activity increases your body heat, and it is much easier to stay cool if you aren't expending a lot of energy.
If you're outside during hot days, stay out of the direct sun, especially between the hours of 2 to 5 (the sun is at its hottest around 4 p.m.), and stick to the shade. Being in direct sunlight can be significantly warmer than in the shade.
If you don't have air-conditioning at home, you might think about purchasing a window or free-standing one. Don't wait until the next heat wave, though – air conditioners and fans tend to leave the stores pretty fast the first week of hot weather. Make sure that you get an air conditioner big enough to do the job. Take the measurements of your rooms and find one that works for the square footage.
Search out air-conditioned places on those hot afternoons and evenings. Check out an afternoon matinee, the local mall (a great excuse to buy new things for baby!), have an afternoon dessert or iced drink at a restaurant, visit a museum, read a book at the library, visit an ice skating rink in your area or anywhere else you can spend some time with your feet up and enjoy a cool breeze. Just make sure they have air-conditioning before you commit spending time there!
Cold showers will help cool you off, too, as will taking a bath or a dip in the pool (even if it is just a wading pool!). I found a lot of relief in just soaking my feet in cool (not cold) water at the end of the day. There are leg and foot massage lotions with soothing aloe and other ingredients to help cool your legs and feet down, too.
Don't have time for a shower? Run water over your wrists and you will feel cooler almost instantly, regardless of the temperature.
Keep a spray bottle filled with water and "spritz" your head and neck as needed. Add lemon juice for a refreshing scent (not too much, or your water will become 'sticky'), or lavender for a calming scent.
If you take walks outdoors for exercise, do so in the early morning hours. Evening walks are nice, but sidewalks retain heat even after the heat of the day, and may make you uncomfortably warm.
Frozen grapes are a nutritious sweet treat that will help you keep your cool. Ice cold watermelon, strawberries and other water-rich fruit can be quite refreshing, too, and will help you stay hydrated. Not to mention, they're great for baby!
Don't cook with the oven or cook items on top of the range for extended periods of times. Save the stews, pot roasts, and turkey dinners for the winter! Outdoor grilling is a perfect way to keep the heat from inside of your house. Experiment with new and different salad recipes, cold sandwiches, fruit salads and other non-cook solutions when you'll eating something cool (and healthy) without heating your home. Add beans, nuts and cheeses to salads and sandwiches to help keep up your protein – and energy level. Be careful, though, protein is known to increase the body's heat production in some people.
Wear lighter color clothing made from light weight. Stay away from synthetic fibers, lycras, nylon, and other materials which will trap your body heat. Choose instead natural fiber and lightweight fabrics (such as cotton and linen) for your maternity wardrobe.
Avoid tight-fitting/form fitting maternity clothes when it gets uncomfortably warm for you. Loose fitting clothing will allow air to flow between your clothes and your body, and will keep your body cooler than tight fitting clothing will.
Your feet, especially when pregnant, hold in heat, are prone towards swelling, and will make you extremely uncomfortable in warmer weather. Beware of socks and shoes, opting for sandels as much as possible. Take advantage of being "bare foot and pregnant" while you can.
Forego the stockings. Made of synthetics, stockings will trap the heat and keep you warmer than you need to be!
Apply deoderant under your breasts and in-between your thighs (either roll on or stick works great!). This will reduce your sweating and help prevent heat rashes in these areas.
Remember what you know for staying warm in the winter: Body heat is lost through the head. Just do the opposite of what you do when it's cold outside. Stay away from hairspray for the summer. Keep your hair short and freely moving to allow heat to escape. If you do have long hair, keep it in a simple pony tail (instead of piled on your head) so that the air can circulate around your neck – another hot spot during warm weather!
Sleeping when it's hot out is always difficulty, and more so when you're pregnant. Wear as few nightclothes as you're comfortable in, use high-thread count cotton sheets, and use light-weight blankets. You might also try spritzing the sheets with cold water and taking a cold shower right before bed (and keep your hair damp if you can). Iif you have a waterbed, turn the heater off or turn it to a very low setting.