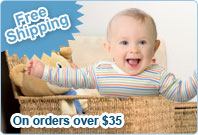 Popular Categories
Pregnancy Websites
There is an enormous amount of information on the web pertaining to pregnancy and birth, and I think we've found about 85% of it. We joke about our twins being the "the best researched pregnancy in history".
The websites we include here have advice, suggestions, resources, activities - just about everything you can think of for surviving pregnancy and early childhood! As always, you should take all the information you can in, and then glean from that what works for you and your family. Every topic has at least 20 different points of view - we have found that listening to suggestions is very helpful. We have been able to modify and adapt several hints and suggestions into our routines.
Pregnancy Calendars - This is a catch-all of the calendars we found, including fertility calendars, due date calendars, pregnancy calendars, and Chinese pregnancy calendars!
Baby Names - We've gathered together websites with the meanings of baby names, baby name origins, traditions, and nicknames.
Pregnancy and Parenting Magazines - In this modern age, you don't always have to buy a subscription to get the benefits of the popular pregnancy and parenting magazines! We've included the websites of some of the most popular pregnancy and parenting magazines, as well as other informative sites!
Moms Clubs - A collection of national and international clubs for parents. Don't have a Moms Club or playgroup near home? We've included head office information so you can start your own!
Fun Stuff! - Fun sites that we found that really don't belong under any of the other topics.